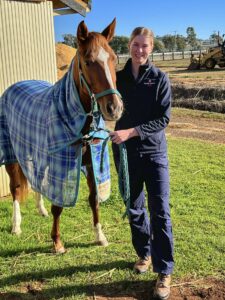 Equine Vaccinations:
We all want the very best care for our equine friends and vaccination is vital in equine health management. They allow us to protect our horses against many infectious and potentially deadly diseases. Below is some of the more common recommended diseases that you can protect your horses from:
– HENDRA:
Hendra virus (HeV) is a deadly viral disease that is transmitted from fruit bats to horses via ingestion of contaminated fruit bat urine, faeces or body fluids. Hendra virus (HeV) is still a very real threat. It causes a potentially deadly viral disease that can spread from horses to humans. There are no known treatments for Hendra virus, but there is a vaccine available through your veterinarian that helps to prevent it.
If your horse is unvaccinated and becomes unwell the available immediate treatment options for your horse are limited, due to needing to get a Hendra exclusion test performed to rule out that your horse does not have Hendra virus. This test is done through the DPI and only performed once daily (Monday to Friday only) at their testing centre, which is located in Brisbane. Delays due to couriers getting the samples to Brisbane may also occur and therefore create further delays in the samples not being tested for subsequent days. Timely delays in treatment or surgery for your horse can be life threatening to them.
The initial vaccination course is 2 vaccinations 21-42 days apart, followed by a booster 6 months after the second Hendra virus vaccination. Subsequent boosters are required at 12 monthly intervals.
– TETANUS:
Tetanus is an extremely serious bacterial disease that can affect the nervous system. The bacteria enters the body through wounds, particularly puncture wounds. This bacteria produces a powerful nerve toxin, causing distressing symptoms and death in about 80% of cases.
Vaccination requires the initial course of 2 vaccinations 4 weeks apart, then annually after this. Vaccination is highly recommended for all horses.
– STRANGLES:
Strangles is a highly contagious disease and is rapidly spread from horse to horse. Strangles is spread via the pus or discharge from infected horses' noses, draining lymph nodes, or by coughing.
Prevention requires 3 initial vaccinations 2 weeks apart followed by booster vaccinations every 6-12 months. Vaccination is highly recommended for all horses who come into contact with other horses (e.g. shows, pony club, competition horses, horses on agistment or horses sent to stud). Tetanus and strangles vaccine come as a combined product referred to as '2 in 1' vaccine which is convenient for booster vaccinations.
– HERPES:
The herpes viruses are a family of viruses found in many animals. In horses a vaccine is available against EHV 1 and 4. These strains are most commonly associated with upper respiratory tract infections (colds) however they are also on occasion associated with abortion in broodmares and paralysis in horses.
The vaccination protocol varies with the use of the horse. It is strongly recommended in pregnant mares going away to studs or agistment properties, as well as for some competition horses or horses being sent away to multi horse facilities.